Behind us is an action packed 2021. For Futuclass it has been a successful and a productive year, where our products have taken significant steps forward. In addition to launching the Futuclass Teacher Portal, new study modules and lesson plans, our year was filled with many more exciting adventures! More details in the recap below…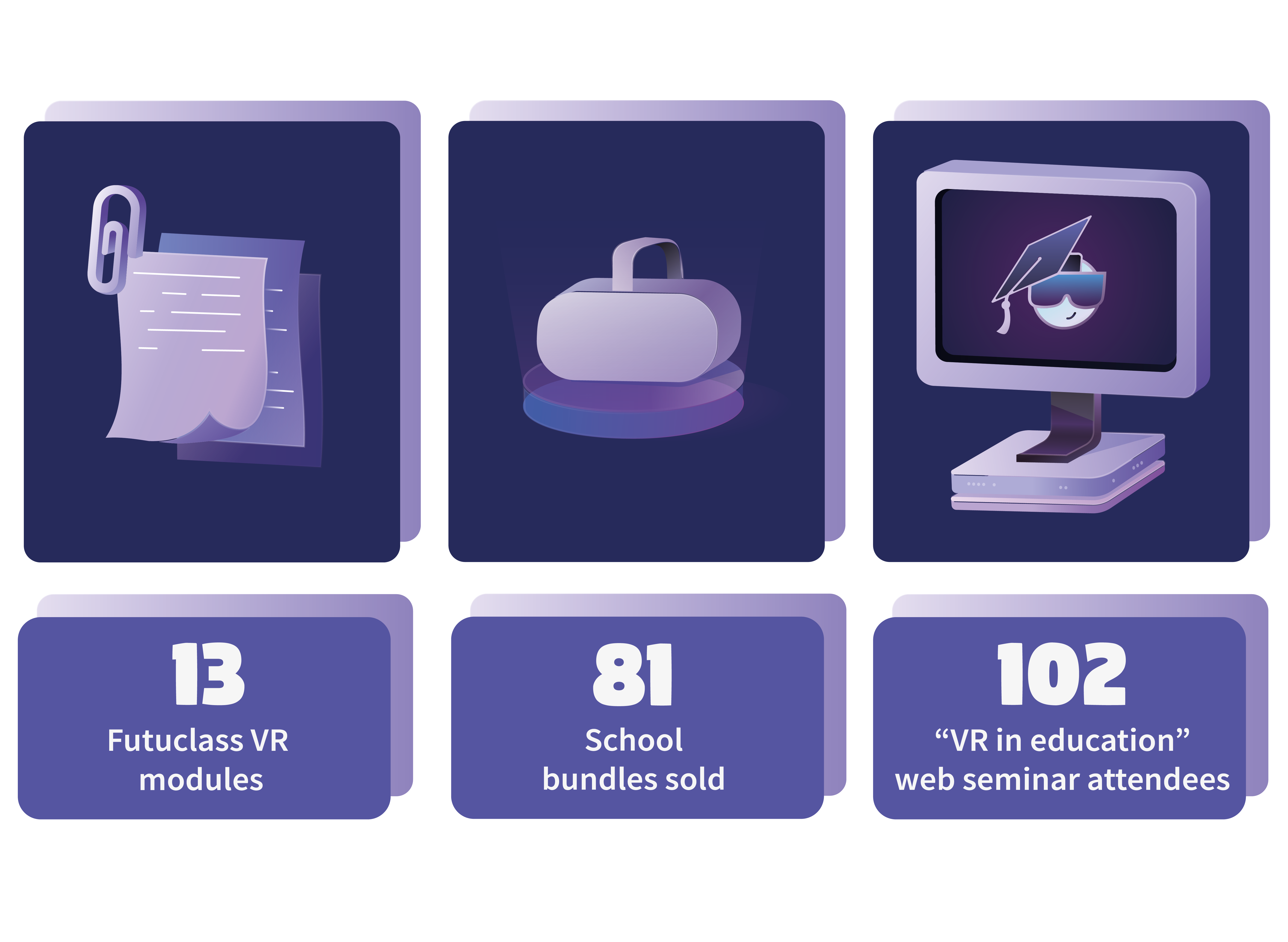 Futuclass school bundle - schools asked, we provided
Due to Estonian schools wanting to gain access to virtual reality as easily as possible by buying hard- and software in a single package, we brought the Futuclass VR School Bundle to the market. One Futuclass VR School Bundle includes:
1 VR-headset
Futuclass VR study modules
Over 20 learning apps by other studios to use in different lessons
Access to Futuclass Teacher Portal
Lesson plans for individual learning and Group Lesson Plans for group learning using a VR-headset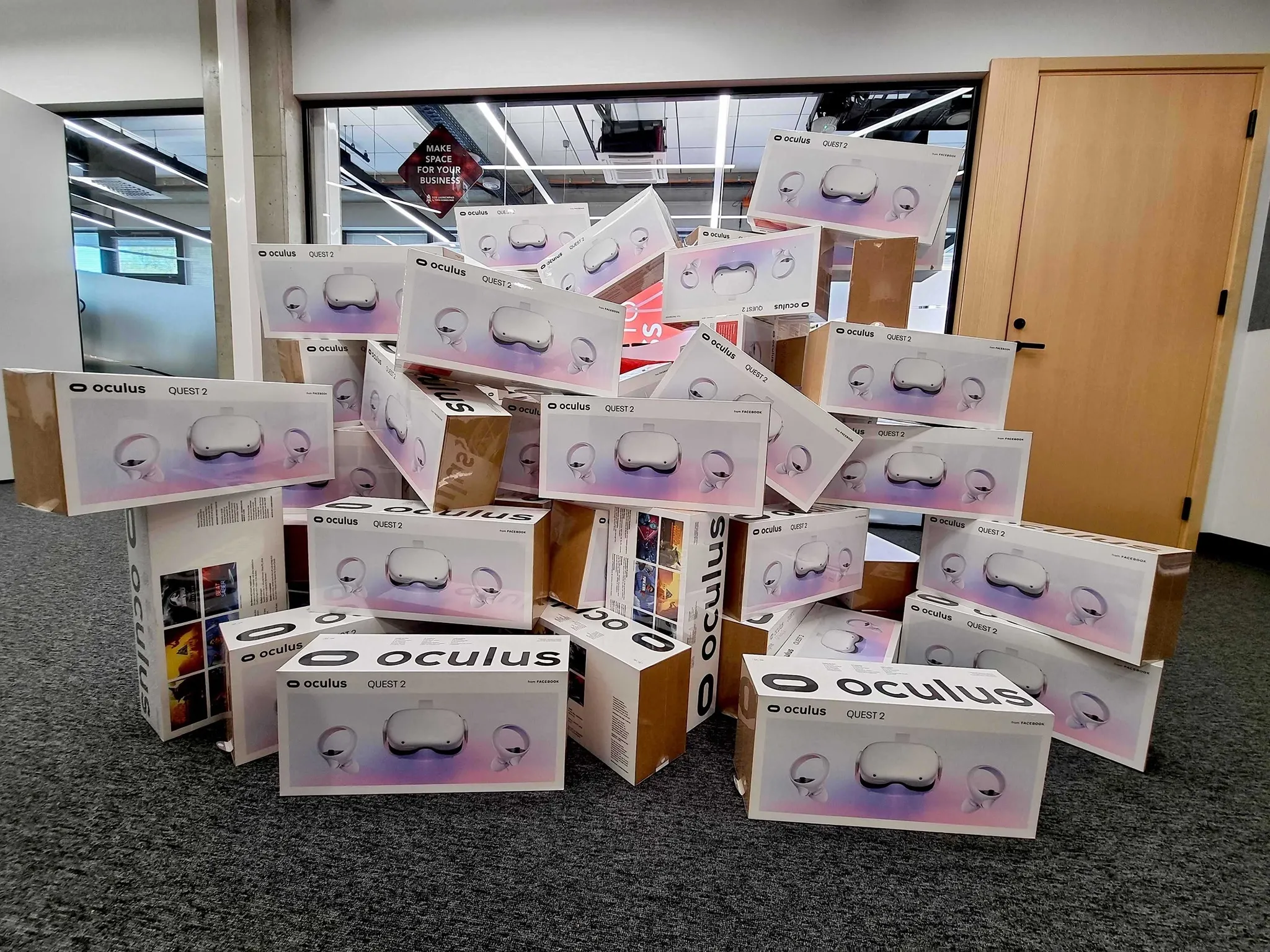 Bundles like this ended up in
eight
schools in Estonia with
over sixty devices
in total. In addition, starting this year, there will be educational VR content available in subjects other than Chemistry and Physics as well. We have entered into cooperation agreements with Swedbank, Mondo and Päästeamet (Estonian Rescue Board). All of them have developed educational VR apps that will be finding their way to Estonian schools through Futuclass. You will be able to read more about our partners' VR apps in our next newsletter, but if you cannot wait, then
write
to us!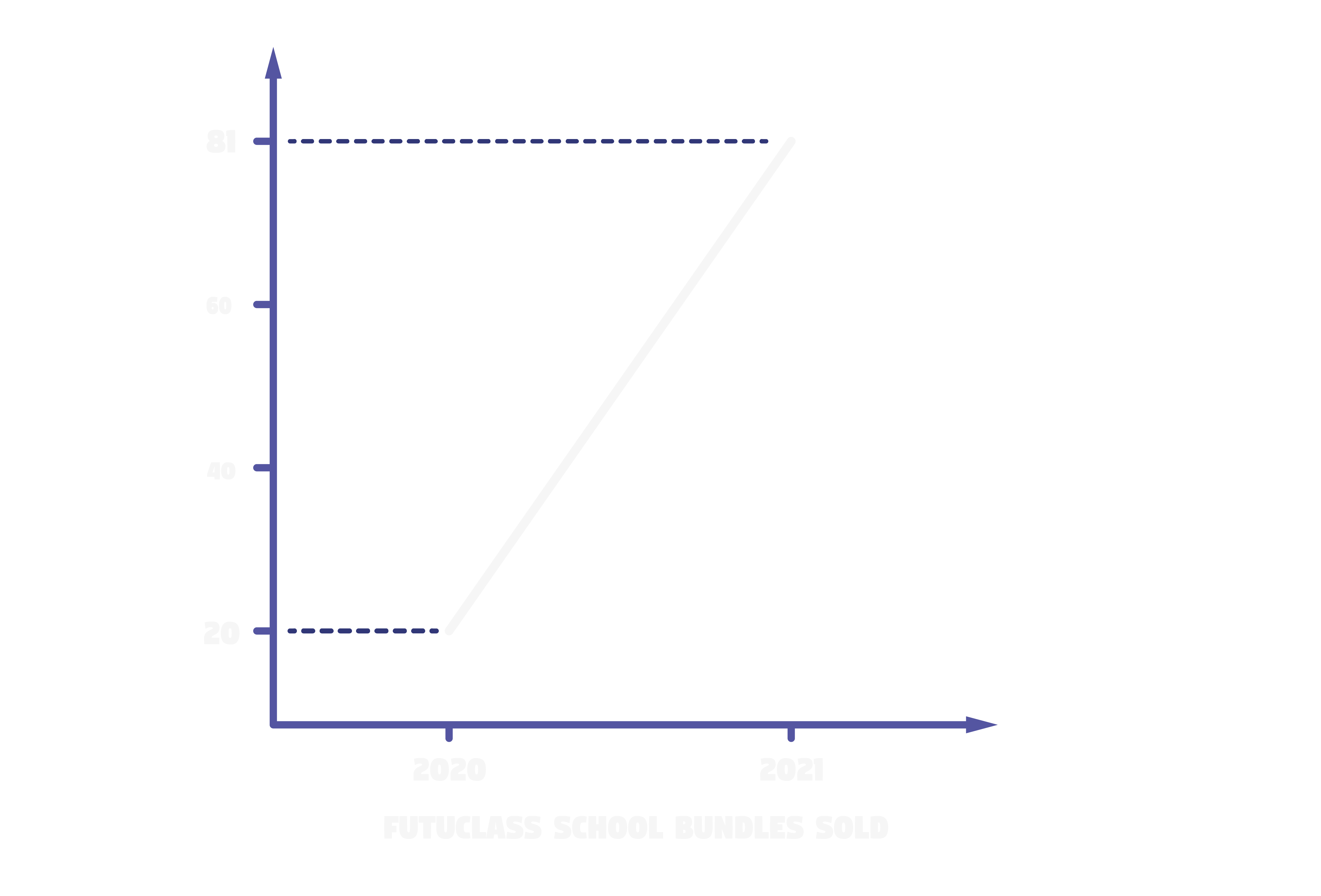 Futuclass is now accessible on three platforms!
Until fall 2021, Futuclass was accessible to the general public only by Steam. Now you can access our content on three separate platforms:
Oculus Quest and Quest 2 headsets
Wired devices on Steam
Pico Neo 3* devices (not publically)
*Pico Neo 3 is similar to the Oculus Quest 2 headset.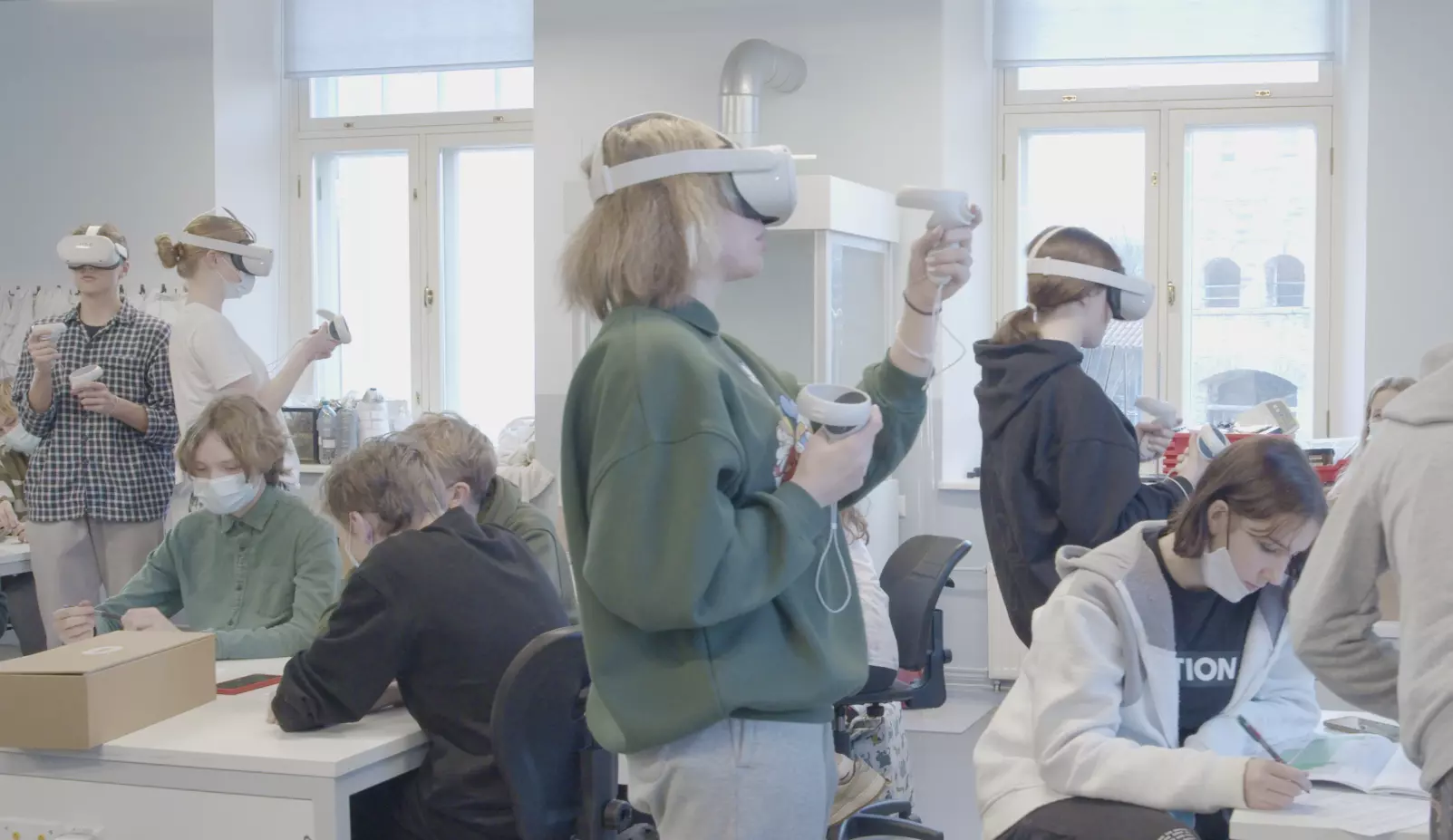 The results of students' VR-games are now visible to teachers!
The first version of Futuclass Teacher Portal was launched. One of our team's daily tasks is to create educational VR content or study modules, as we like to call them, that students can play to master the topic at hand. Until this day, teachers have not been able to get direct feedback on how their students perform in VR (other than by physically written worksheets). Soon this feedback will be conveniently and readily available in our Teacher Portal!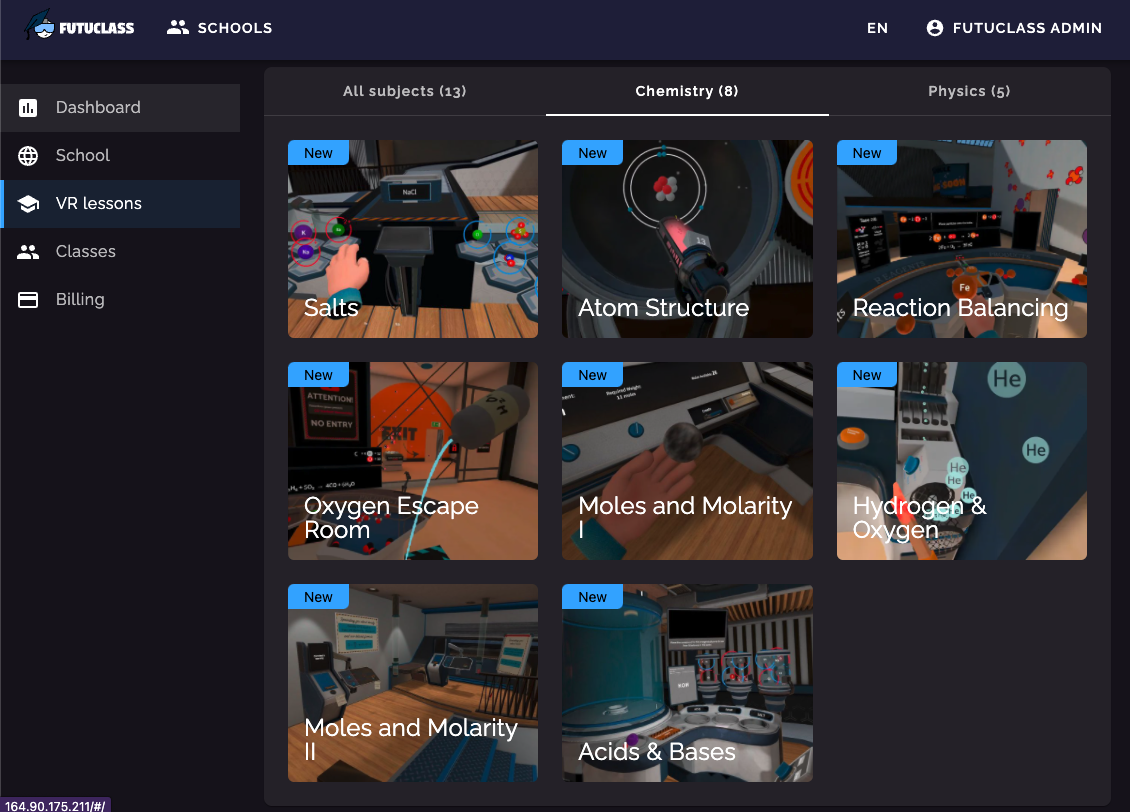 Futuclass Teacher Portal is located at portal.futuclass.com, where teachers can log in with their account and guide Futuclass VR lessons. The portal serves three main functions:
Overview of Futuclass study modules
The ability to see students' VR lesson results in the web
Easy access to Lesson Plans, tests and best practices of teaching in VR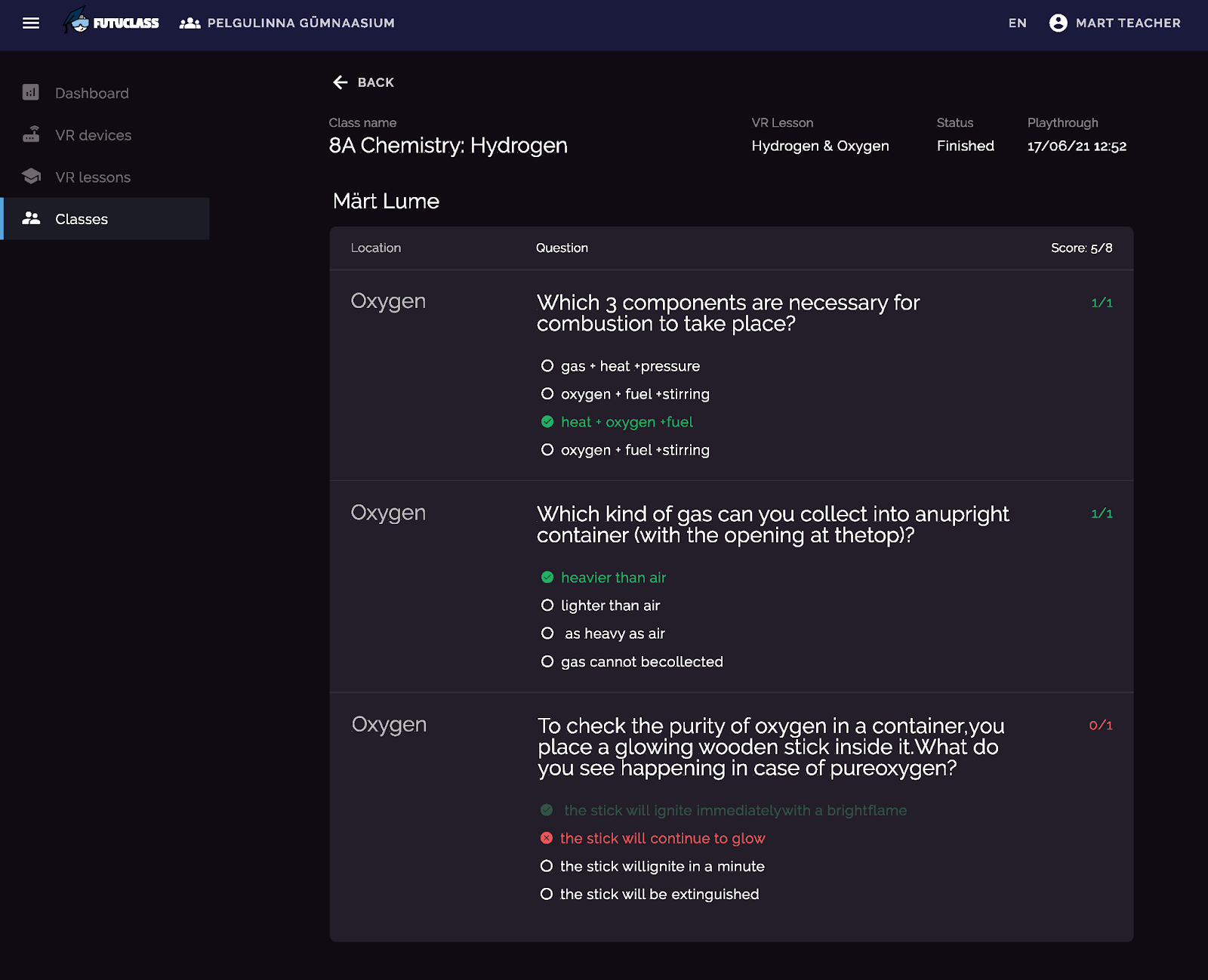 Journalist Priit Pullerits visited us to find out more about VR-glasses and the world of virtual reality
"Estonians are creating an opportunity to venture into time and space" - is how he reviewed our virtual reality experiences. You can read the article
here
. The picture, published in Estonia's leading daily Postimees, brings out how virtual reality glasses work and why they have cameras and other sensors.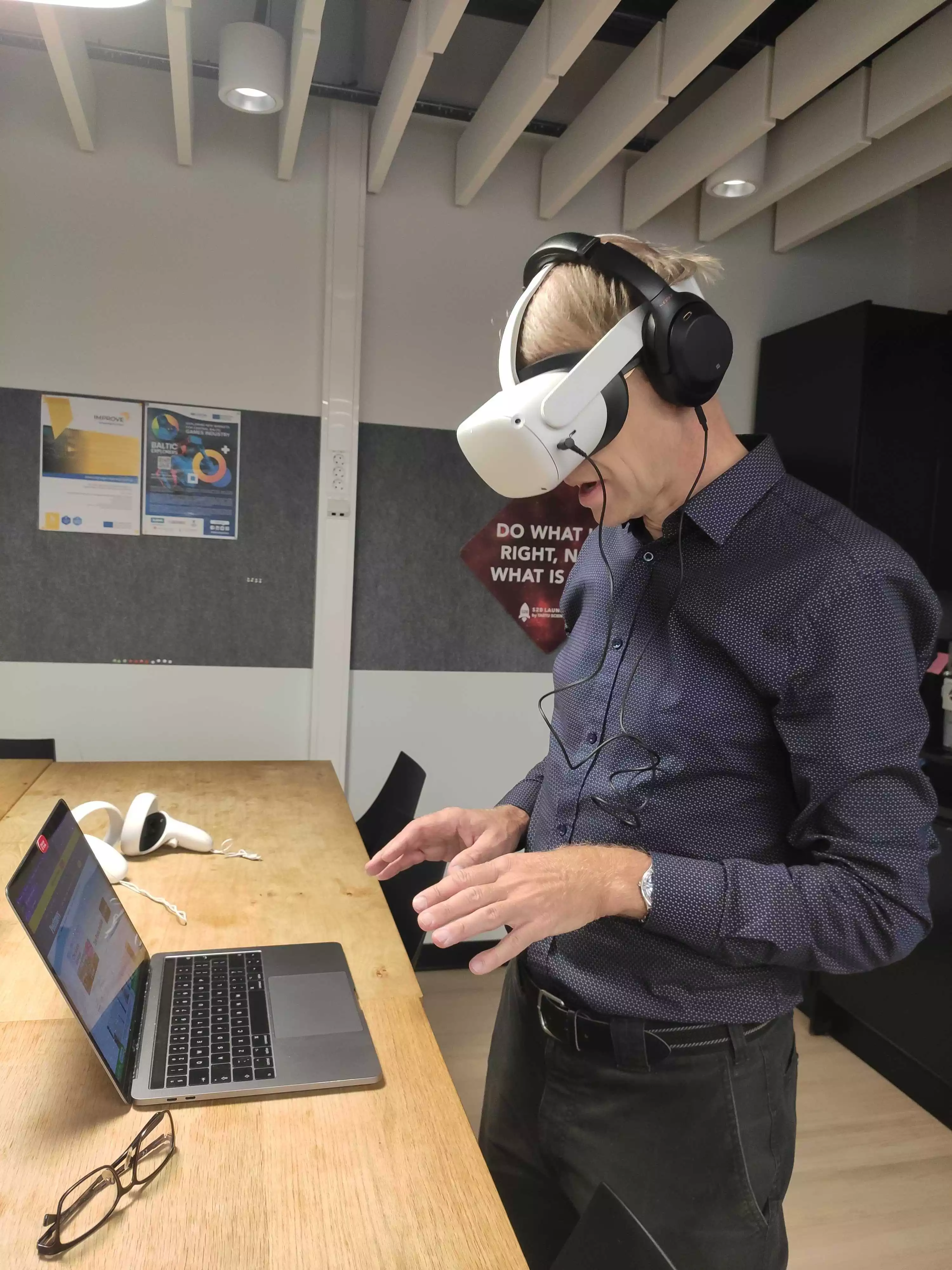 A creative year
In the first and last quarter of the year we were mainly focused on developing new study modules. An entire eight new study modules were created in this period. Five of them are interactive physics stories with diverging storylines. The rest are educational games focused on chemistry.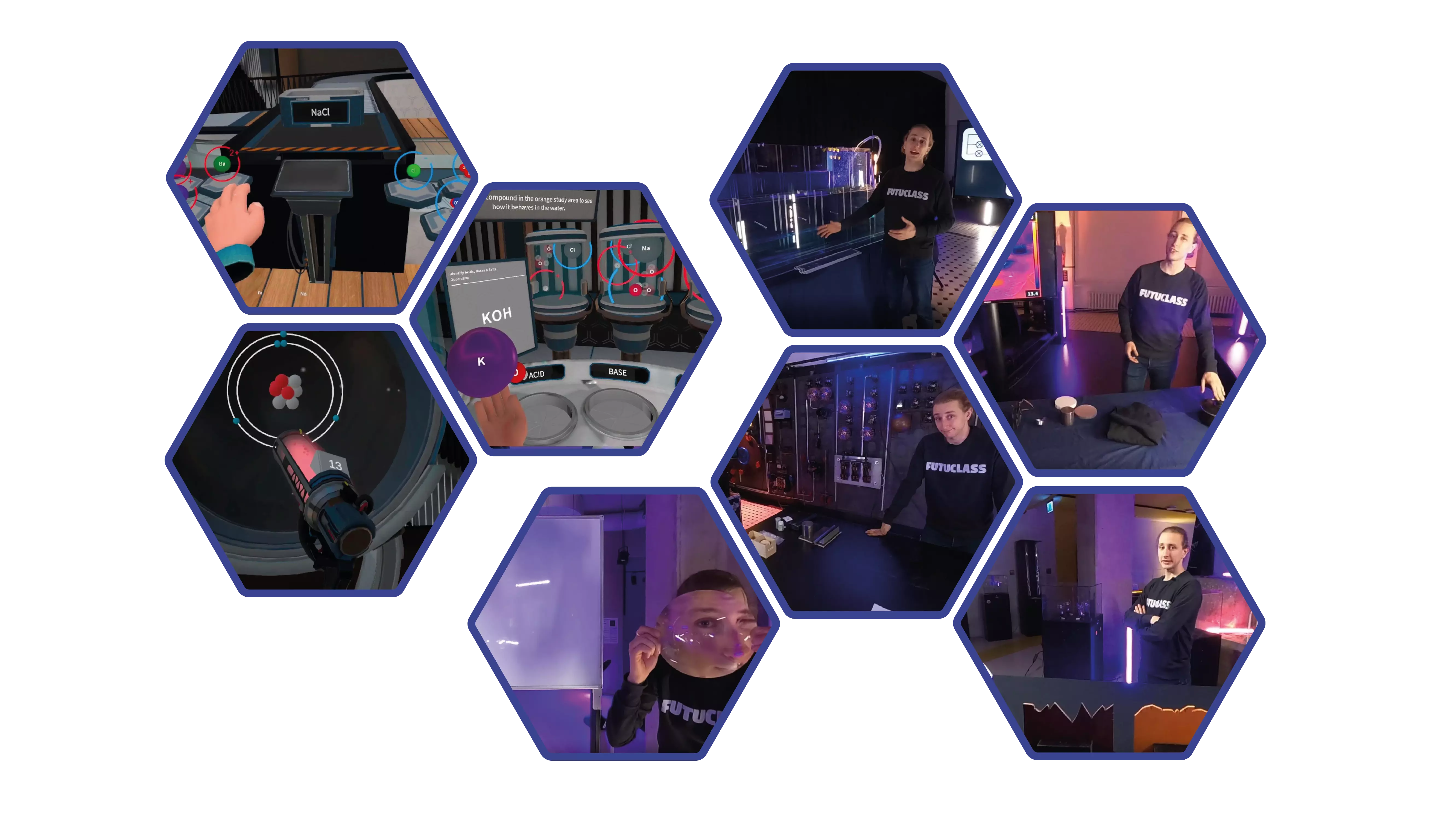 In the picture below, you can see us setting up the "movie set" to shoot the physics modules using a 360 degree camera. Arnold Rein Tatunts, our educational content designer, was the irreplaceable leader of this project.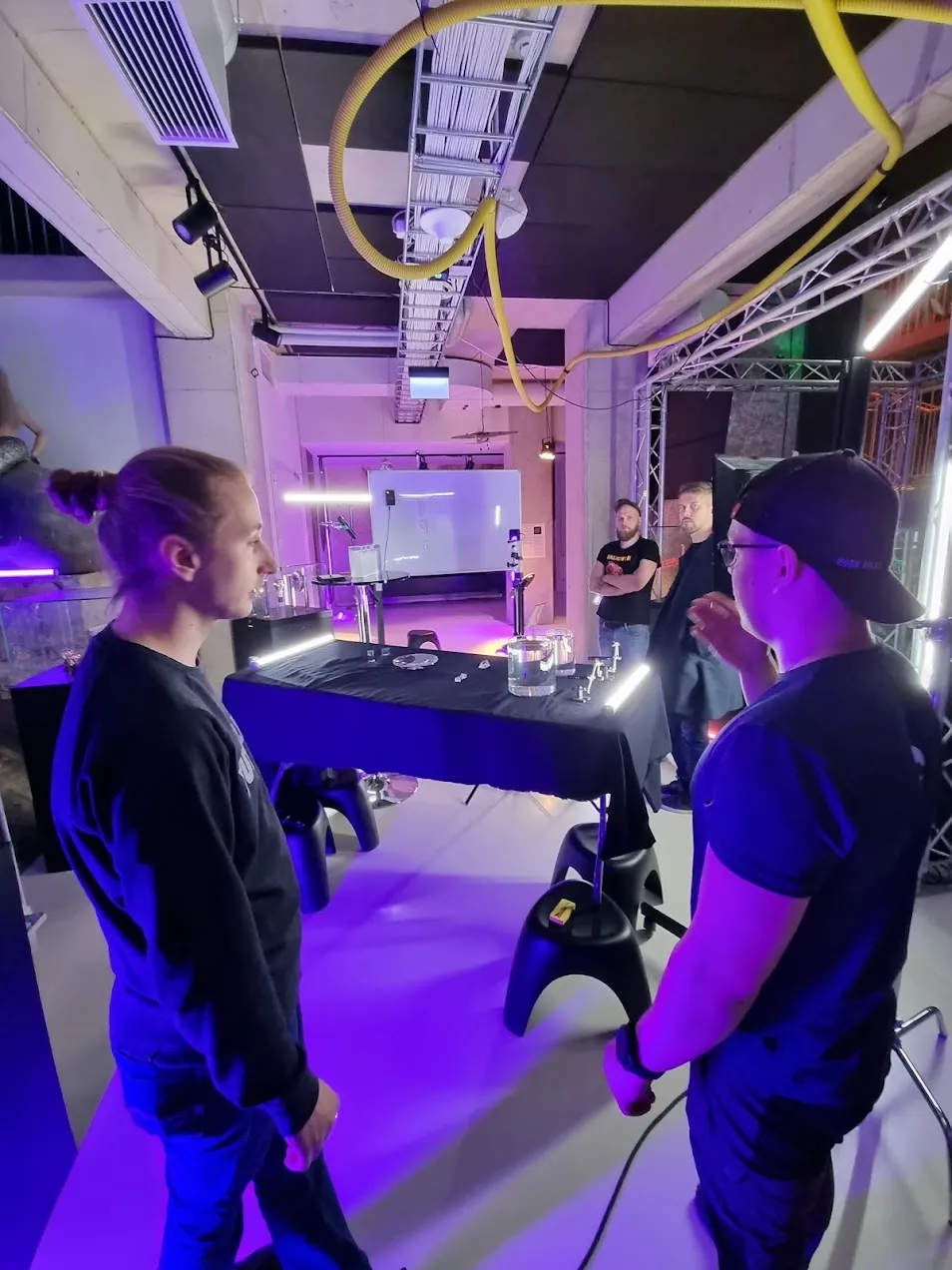 In addition to developing VR content, we also started to prototype and test an
AR aka augmented reality
study app to teach the balancing of chemical reactions. The idea is simple - mobile devices and tablets are more frequently found and used in schools compared to virtual reality headsets. This means the app has great potential to spread quickly and far.
Test lessons went smoothly and soon the project was used in the masters' degree final thesis by Roland. Right now the project is on hold as we still consider VR-study content to be our strong suit. The learning efficacy that can be achieved in the focused attention of a VR world is a huge advantage with nowadays students, and the key reason why we prefer developing VR content over AR content for the foreseeable future.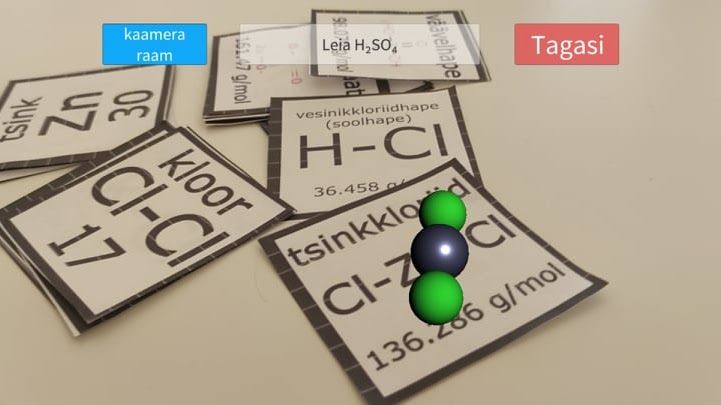 Teacher-initiated lesson plans
Many schools don't have enough VR-headsets for all the students to get to play a study module at the same time. To address this problem, enthusiastic Teachers using Futuclass took matters into their own hands and wrote lesson plans for group work lessons, where students share a headset in a group. These lesson plans currently exist for the following Futuclass modules: Salts, Hydrogen and Oxygen, Reaction Balancing. Thank you, Krista Kõiv, Merit Eier ja Katrin Soika!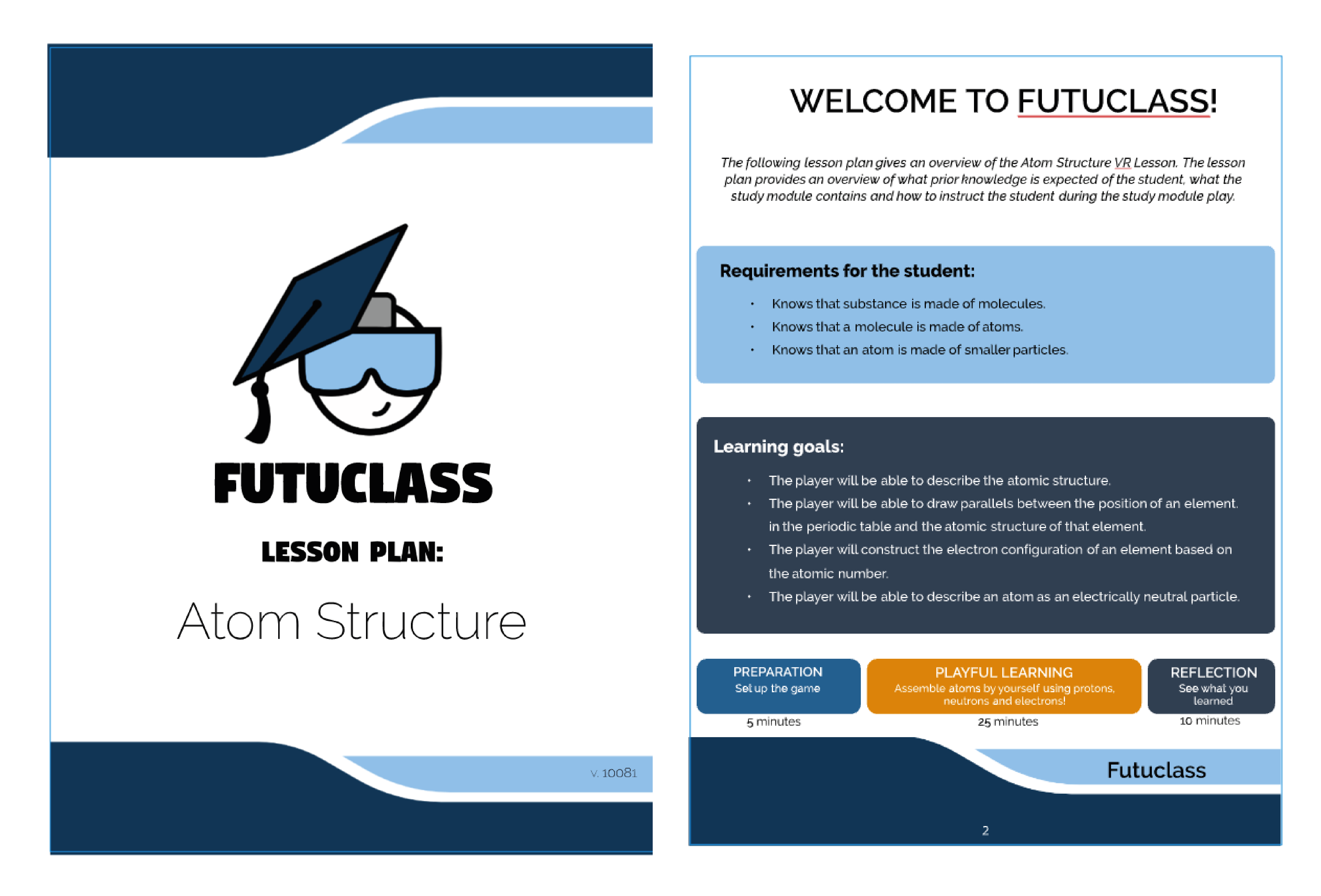 In the picture below, group work is performed this way in a chemistry lesson in Gustav Adolf Grammar School, with students taking turns solving problems using shared VR headsets.
And what were Futuclass artists doing last year?
In addition to educational content, a new environment was made for Futuclass! The new space was created to feel friendly and open. In its design, it was important for the spaces where students study to be inviting and pretty, but at the same time not too interesting to avoid cognitive overload. The main focus in virtual reality lessons must remain on the objects and tasks necessary to achieving the learning goals.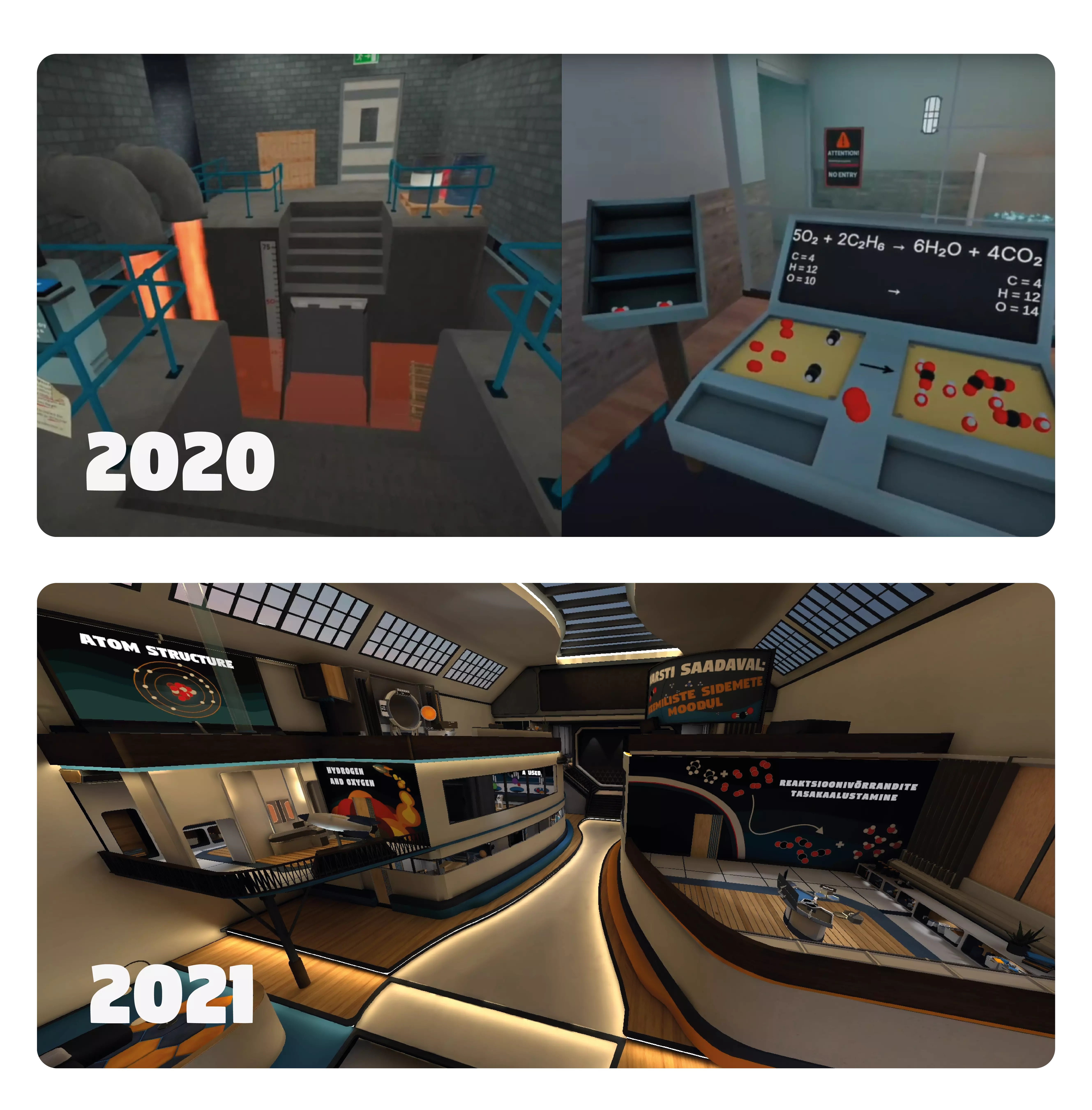 Futuclass during sTARTUp Day
We attended sTARTUp Day in 2021. It was an event where many visitors could try Futuclass and to get to know the product as well as the team building it.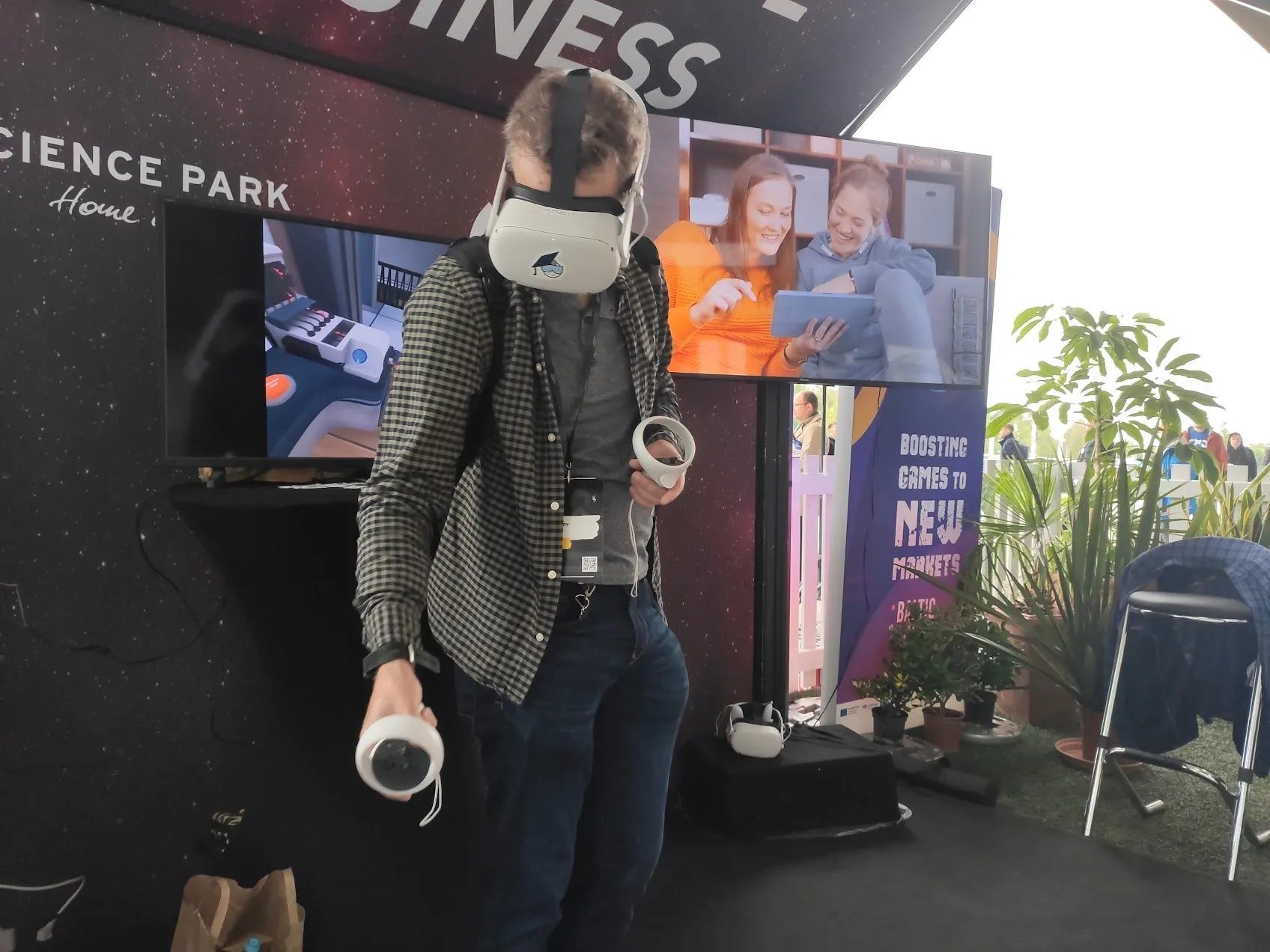 Virtual reality (VR) in education Facebook group
We helped kickstart a FB group to exchange knowledge, experience and ideas about teaching using virtual reality. The group brings educators who are also interested in virtual reality closer together. The group has a little less than 200 people at this point, with already a ton of useful topics having been shared! If you feel like you would fit the target audience then join
here
!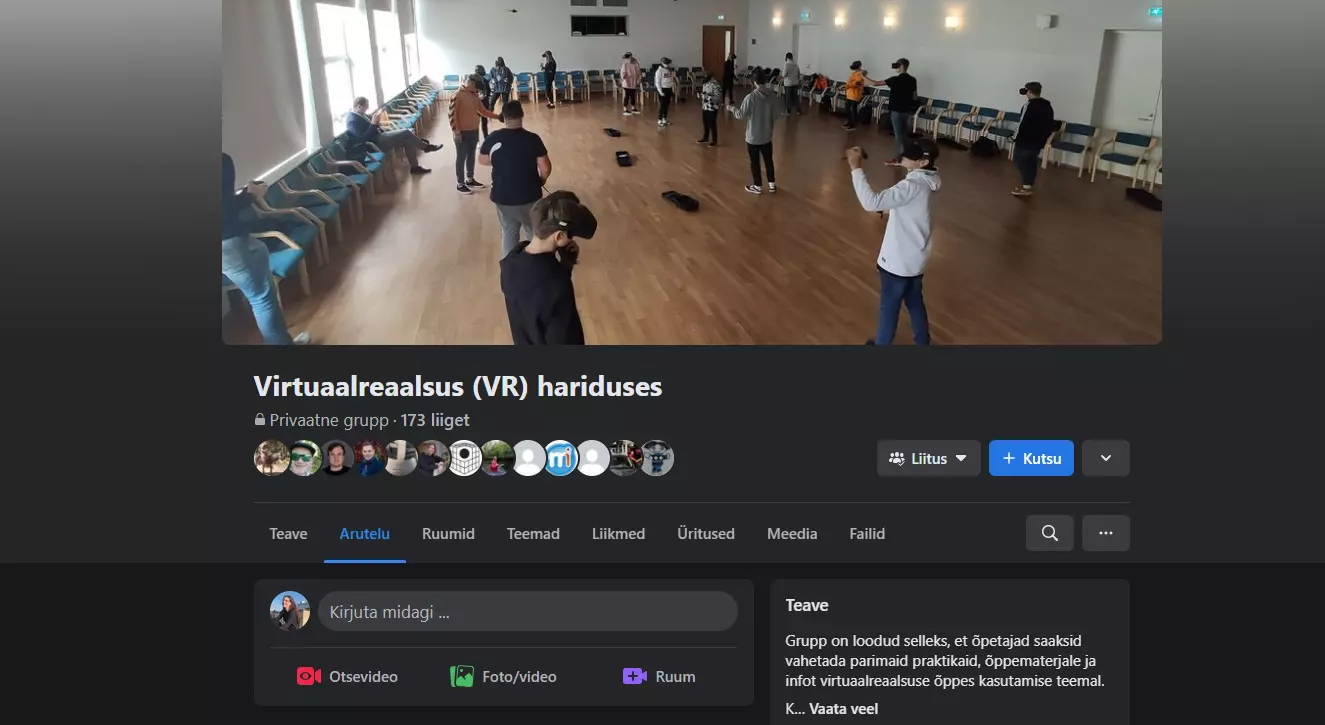 Futuclass in ERR news
In Estonia's leading news programme, Parksepa school introduced the school's teachers' and students' experiences in using virtual reality in the classroom. ERR wasn't the only outlet covering Futuclass in 2021. As another example, for the launch of Estonian Virtual and Augmented Reality Association a
video
was made to introduce various applications of virtual reality.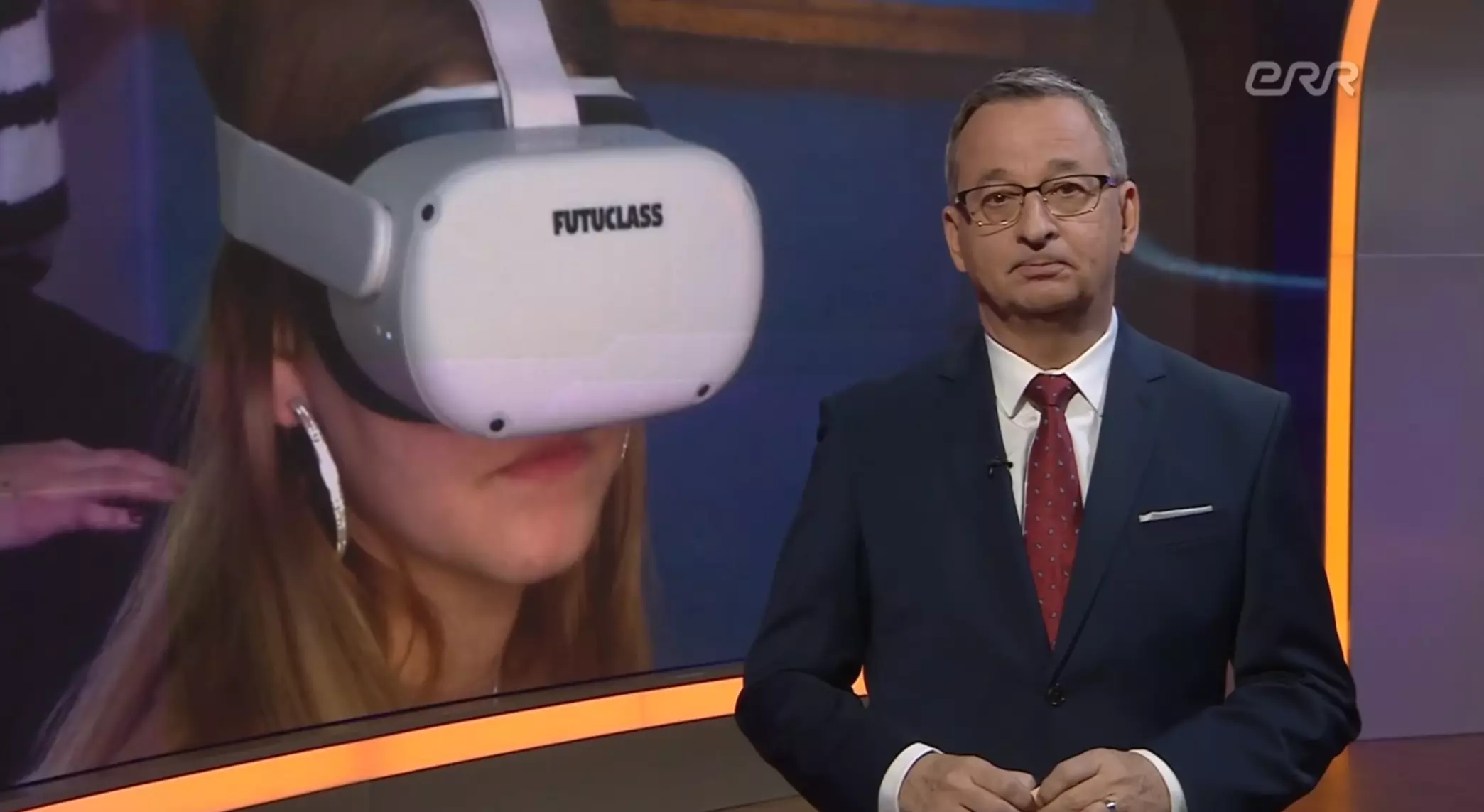 "Virtual reality (VR) in education" web seminar and workshops for teachers
Just before Christmas break we organized a web seminar, which included topics like:
What is VR? 3DOF vs 6DOF. Main use cases for VR.
Schools' experiences (Parksepa School, Ene Veberson and Vändra Secondary School, Merit Eier)
Students' experiences with Futuclass
Available VR-applications for different subjects
Futuclass school bundle introduction
Most common problems in using VR in education + solutions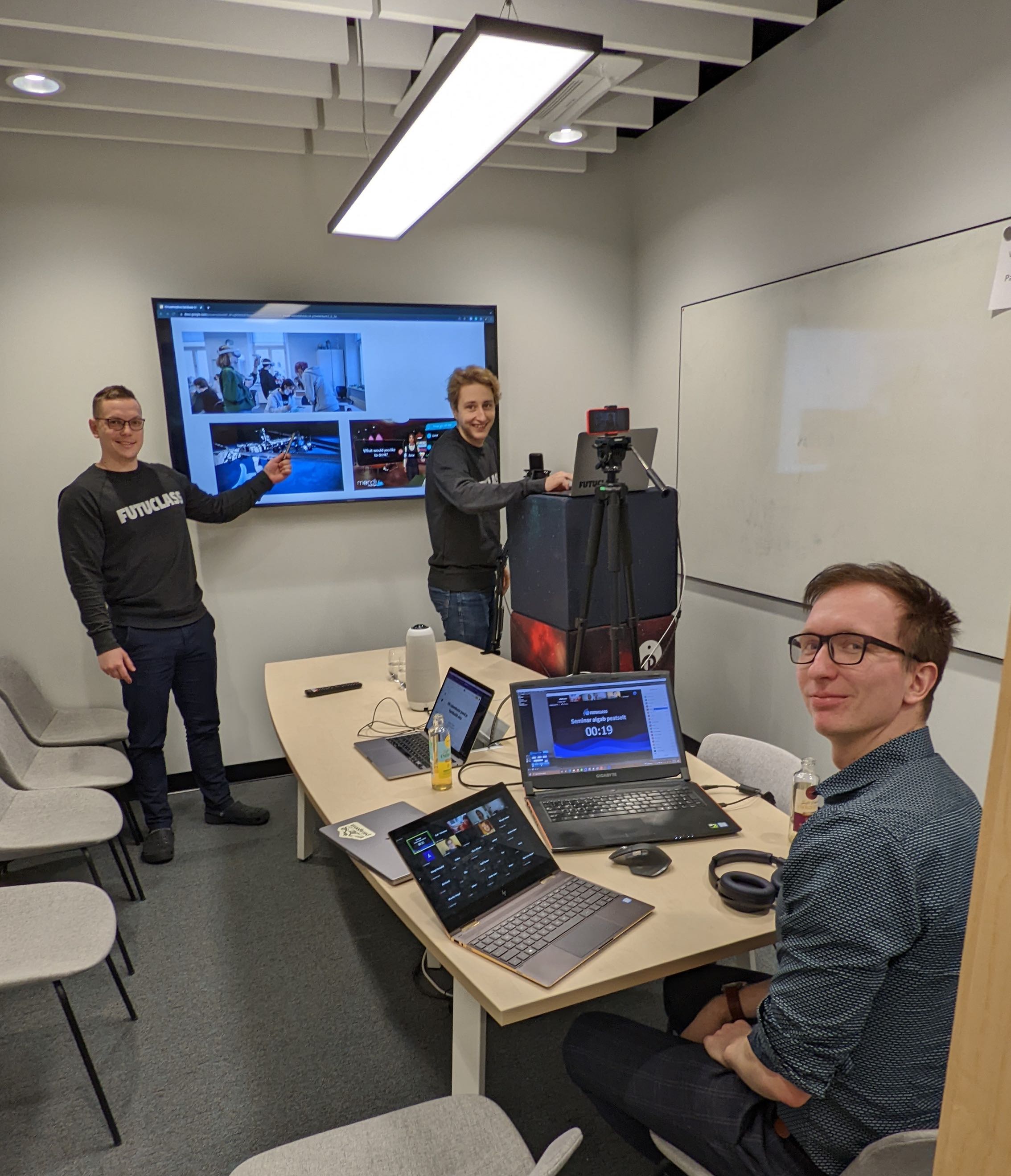 We also participated in many other workshops throughout the year
Teachers got VR-glasses onto their heads and started familiarizing themselves with the available content. The picture below shows a workshop held in Tartu Kivilinna School where many teachers who got VR glasses through the Klass+ project introduced the educational content and lesson plans they themselves had created. It was very interesting to hear how teachers "thrown into the cold water" talked about their experiences of VR with great enthusiasm.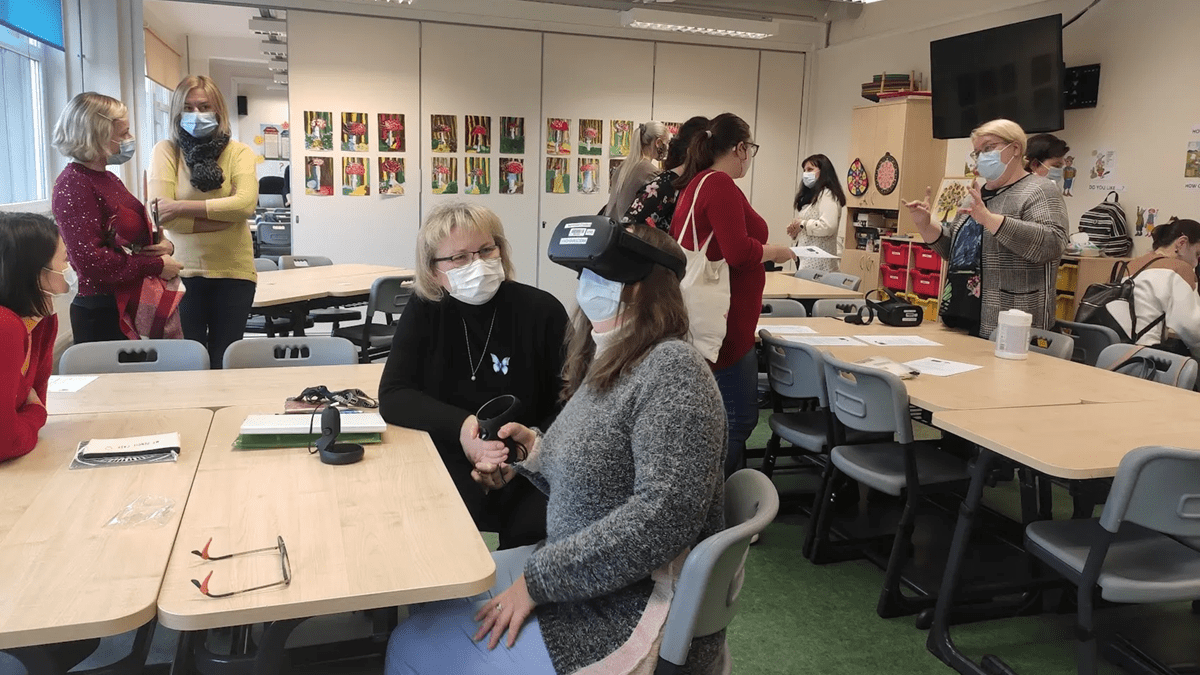 Futuclass team exploring the world
It has become a tradition in Futuclass that once a quarter we go to a so-called work camp. Which means we would rent a house where we combine work and fun. In 2021 we had 2 "workations" - once in Ottepää and once in Pärnu. This was not just about fooling around, but also about writing code deep into the night and prototyping a lot of cool future content for Futuclass.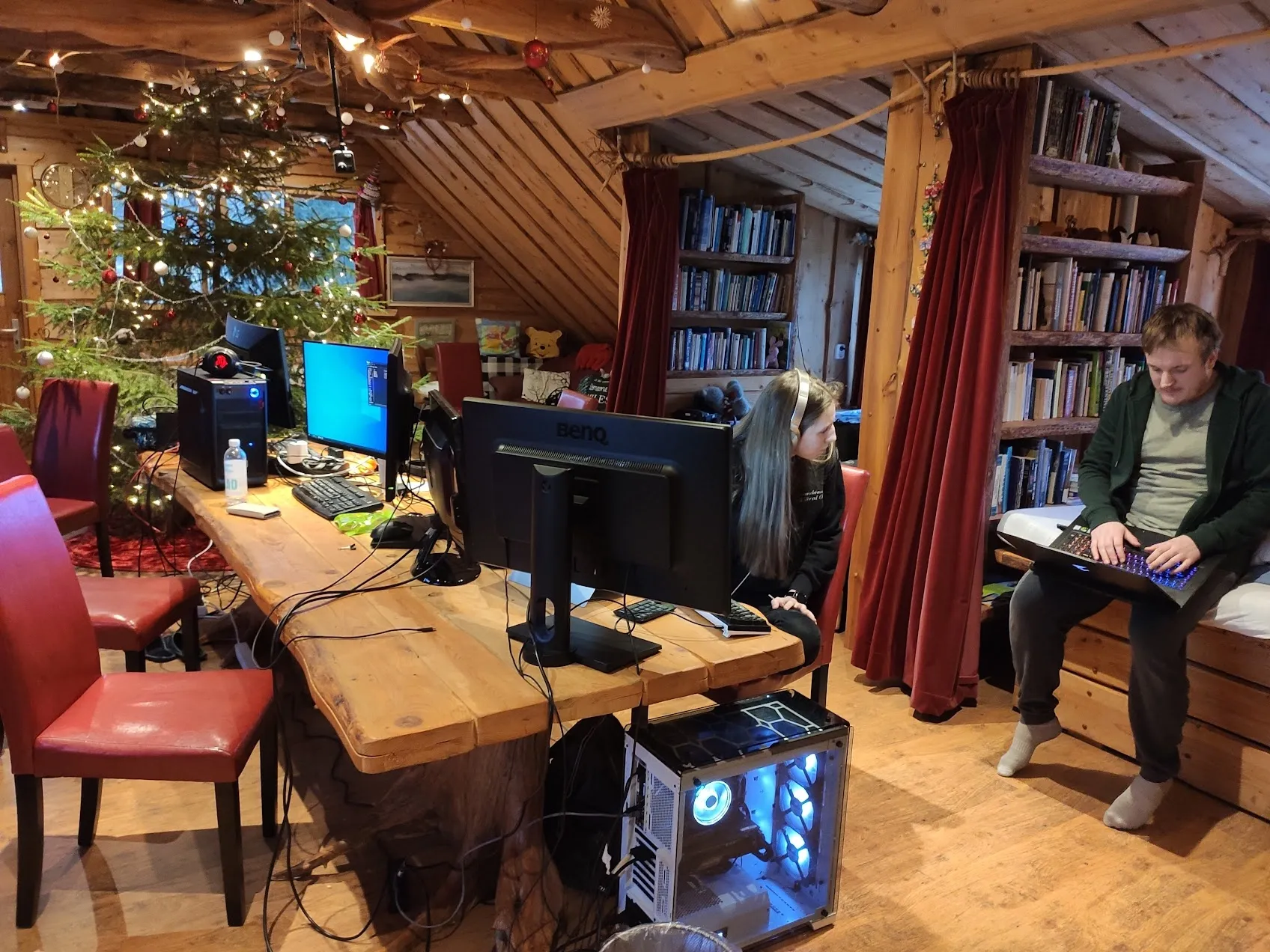 And to conclude our year - a picture of four of our team members (from the left Kristen, Tuuli, Karl and Märt) 5 kilometers high into the clouds with a Futuclass flag.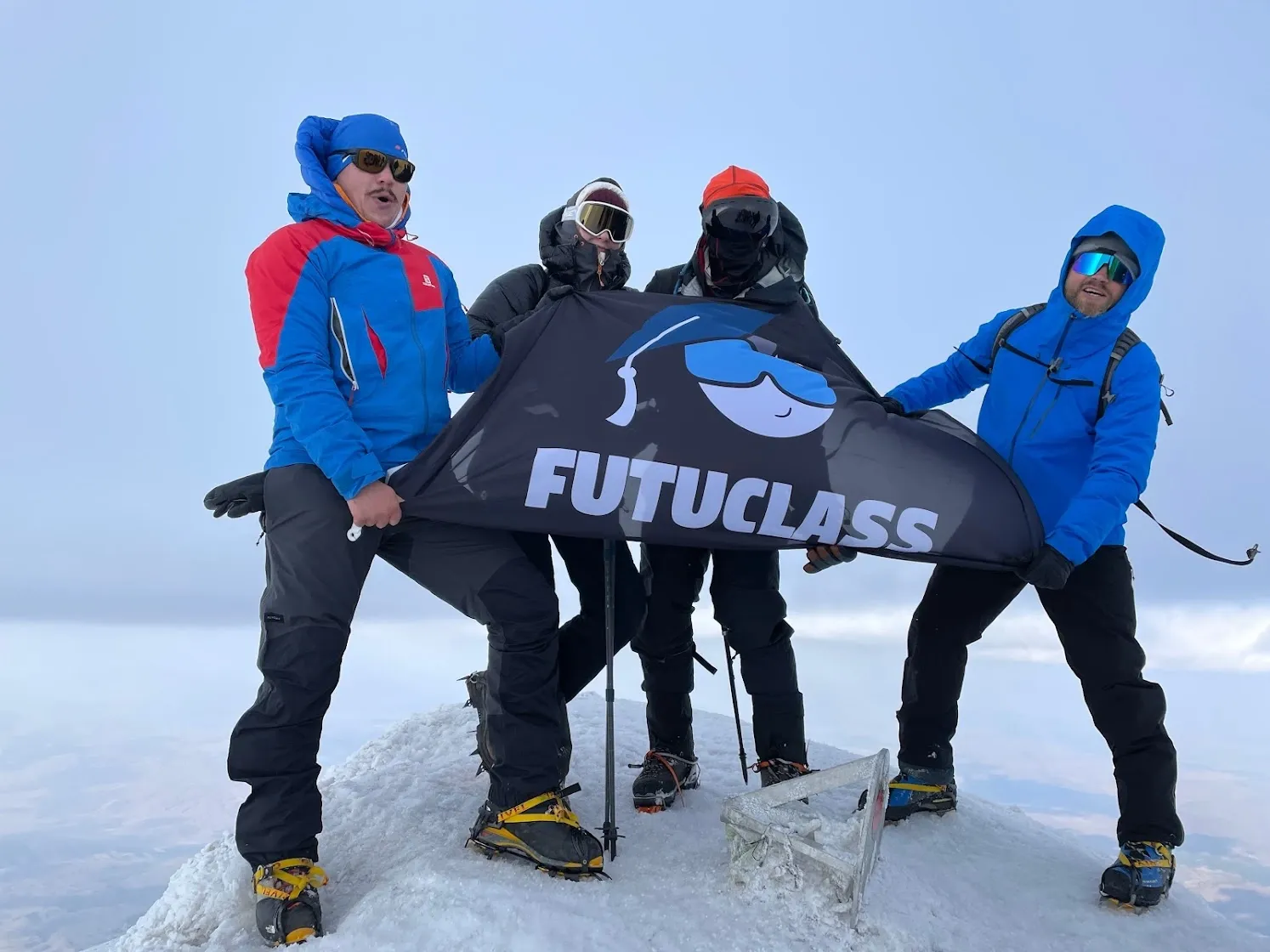 5138 m Mt.Ararat
A big thank you to everyone who has come along for this ride with us! 2022 will be even crazier!